By: Ashley Elliot
Here's the scene… you're relaxing on the couch, drinking a hot cup of tea and your sweet, precious, angel face comes and politely asks for an engaging enrichment activity. You start scrolling Pinterest together and after a reading through a few blogs and watching a few tutorials, you find something just perfect! Then you spend the day side by side making crafts that look better than the original. Sound familiar? I'm thinking no. Let's rewind.

You're halfway through your morning trying to find where you put your coffee mug, but every time you start looking for it you get distracted by something else in your house. Oo laundry in the dryer. Oo yesterday's string cheese wrapper on the ground (who are these heathens living here?!). Oo that permission form I didn't fill out. Bounce over to dishes. Wait did I eat breakfast? Wipe spilled milk from under the table. Find a missing shoe. Ping. Ping. Ping. For most stay at home mom's, we zoom around the house knocking out chores, attempting to stay on top of appointments, unpacking, repacking, sorting…and that other thing – raising tiny humans! It is no doubt that we want what is best for our kids but often settle for good enough because when it comes down to it there just aren't enough hours in the day. How can we engage our kids, stimulate creativity, foster imagination, AND run a household?!
I've compiled a list of gr-8 activities I recommend incorporating into your mom tool belt. *hi, I like puns*
I've only been a mom for seven years so I am very much on the learning curve here but I am happy to share what works in our house in hope that you will share below what works in yours.

I've compiled a list of gr-8 activities I recommend incorporating into your mom tool belt. *hi, I like puns*
---
1. Magazine cutting. Libraries, waiting rooms, the entrance of the grocery store have free magazines and newspapers. Grab one the next time you pass by and let your kid practice their cutting skills. Have them hunt for letters, give them a specific scavenger hunt list, or just let them cut and glue whatever they please.

2. Colored rice. In a gallon ziplock bag add a few pounds of rice and a glob of kids paint. Have your kids shake and knead the bag for a few minutes then lay it out on a tray to dry. Drying takes 20 minutes (might want to give it a mix halfway through to get out any clumps). Add some little figurines to create a small world, some rocks from outside for finding and hiding, or little cups to practice pouring. Baking trays, sensory tubs, plastic bins, or a big plastic bowl would all work for rice play.

3. Secret journal. Find a journal that is stashed away on some shelf with only a few pages actually written on (or grab a new one from the dollar store) and make a private message journal for a big kid of yours. Pass it between each other with either a picture or note and leave it on each other's pillow. This isn't an everyday thing, but imagine how helpful this could be later down the line with a tween? Never too soon to encourage good communication.
4. Paint recycling or rocks. Put kids in an empty bath tub, on the kitchen floor, in a high chair, or at the patio table and let them paint something other than paper – toilet roll tube, egg carton, inside out cereal box, or ask them to go hunt for some rocks in the yard.
5. Eggs at the playground. Bring those plastic Easter eggs out for play more than just once a year. Take them to the playground and take turns hiding them around the play structure. This is an easy activity that engages other children at the playground to help kids work on their teamwork and social skills.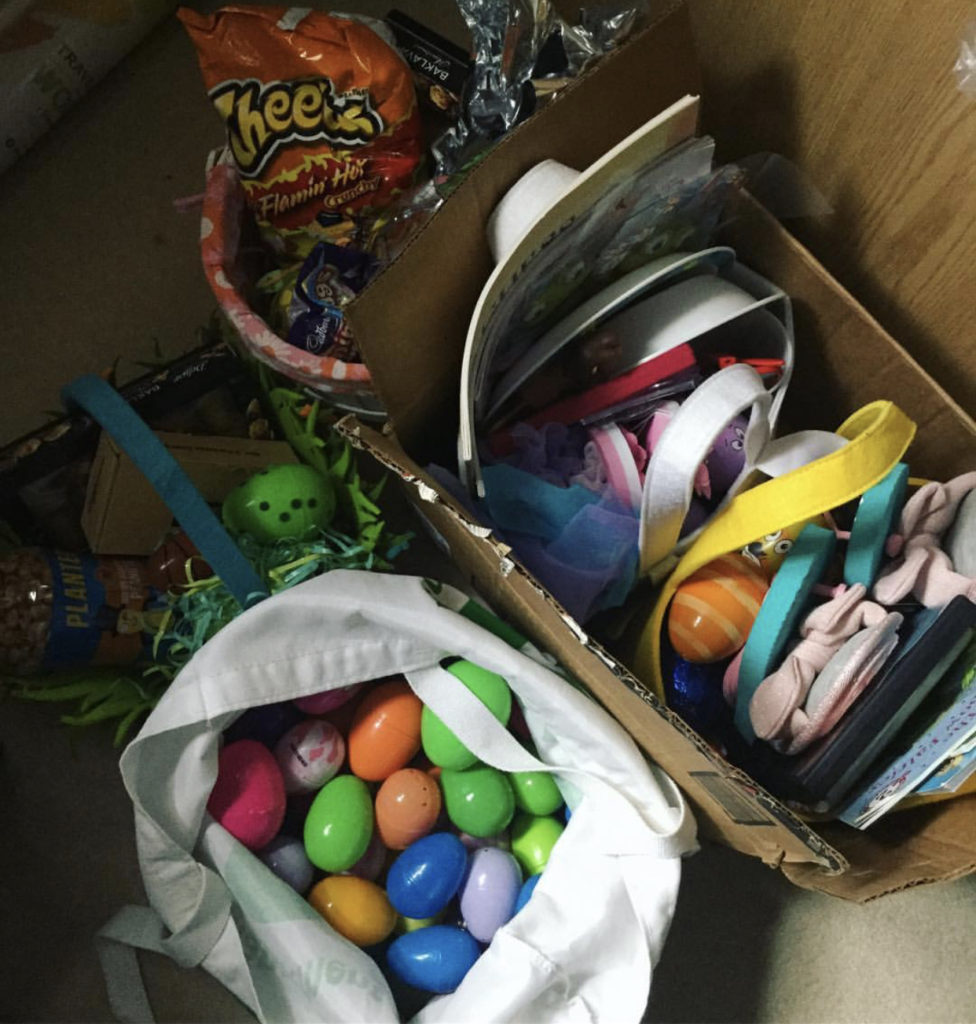 6. Obstacle courses. We started doing these at playgrounds when my oldest was 2. As soon as we arrived at the playground she would dart to a swing and would've happily stayed on there all day. Often the idea behind a playground trip is to tire the kids out not the moms. Next time you get an "I'm bored" or "push me on the swing", try setting up a course and "timing" them. These are easy to set up on your driveway with chalk, in your backyard, on a hike, at the beach…endless possibilities!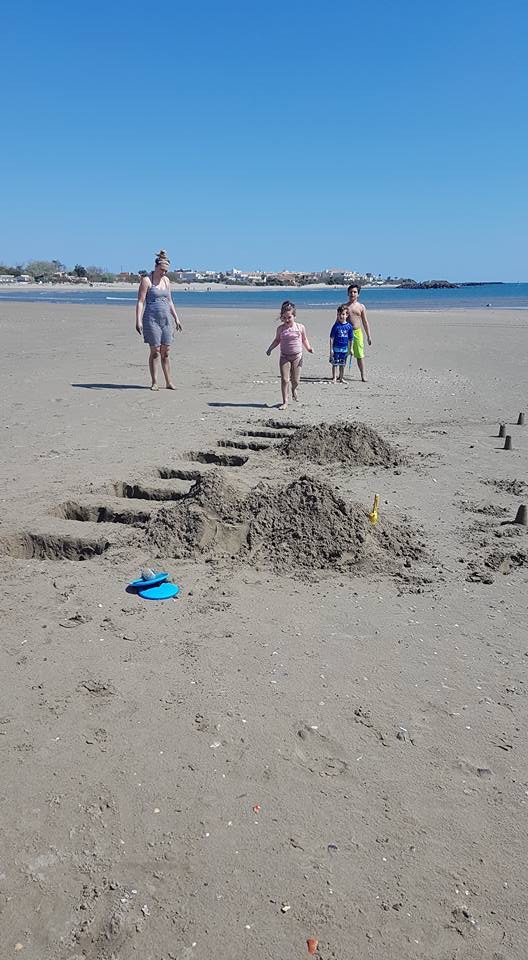 7. Pretend restaurant play with playdough. Discuss a "menu" with your kids, place an order, and have them bring your courses over one at a time.
8. Shaving cream in the bathtub. Fun to cover toys and play guess who, role play a car wash, practice letters, and make silly hairdos. An cheap buy for some easy clean-up fun.
These activities have all been used when mama needs some time! You can set up the most gorgeous craft but if it holds your child's attention for 2 minutes then you're left with nothing but a mess and a grumpy attitude. If I need to buy 30 minutes, my wishlist criteria would be little cost, lots of stimulation, creativity flowing, and wheels burning energy. I'll take a mess to sweep up in exchange for activities that don't come with a side of guilt. Let me be clarify that – there is nothing wrong with a coloring book, the 100th episode of peppa pig, or watching hands unwrap toys on youtube…in moderation. The gr-8 list above hopefully tips you off with some ideas for finding an engaging activity that allows you to knock out two birds with one stone. Bookmark this list and the next time you're trying to prepare a meal that takes more than a hot second to cook, trying to fold and sort a mountain of laundry, trying to respond to a delinquent email, trying to read a book for yourself, trying to tire the kids while you're tiring yourself out – I challenge you to pick a number and give it a shot. The art of distraction seems impossible to master, as the kids are ever growing and ever changing….But if you can deliberately snag a few pockets of time a day with you're child independently playing, creating, spinning their wheels then you're winning. Leave some feedback with what works for your busy bees and may the odds ever be in your favor. 😉